The Mercury Dime, also referred to as the Winged Liberty Head Dime, was introduced in 1916. The new design had been adopted as soon as the denomination was legally eligible to be changed and was selected through a public competition. The new series was more favorably received by the public and remains one of the most popular U.S. coin types to collect.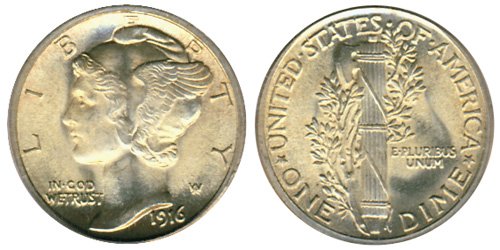 The design for the series was created by Adolph A Weinman, who would also design the popular Walking Liberty Half Dollar. The obverse of the dime features the head of Liberty, facing left. Her hair is pulled up under a winged cap, which gives the impression of the winged god Mercury. The inscriptions include "Liberty", "In God We Trust", and the date. The reverse of the coin features Roman fasces with an olive branch behind. The reverse inscriptions include "United States of America", "E Pluribus Unum", and "One Dime"
Mercury Dimes were produced from 1916 to 1945 with coins struck at the Philadelphia, Denver, and San Francisco Mints. While there are only a few dates which can be considered scarce, the popularity of the series does make it difficult to complete a full set, particularly in uncirculated condition. In circulated grades, the majority of the issues are easily obtained with the exception of the key date 1916-D, which carries a strong premium even in low grades.
This site will provide a basic history of the Mercury Dime along with information on the mintages and specifications of the coin. Additional details are provided for some of the scarce or more popular issues that are of greater interest to collectors.