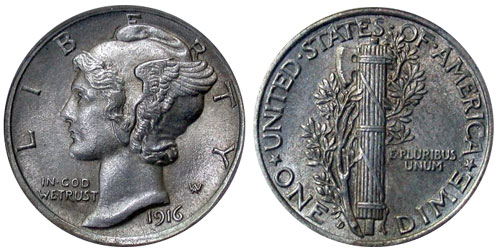 The 1916-D Mercury Dime is the true key date of the series. The coin has a mintage of just 264,000 pieces, which makes it the lowest of the series. It also represents the only coin of the entire series that had a mintage below the one million mark.
The entire mintage was struck during November 1916. At the end of the month, it was decided that the Denver Mint should focus production on quarters to fulfill a large order from the Treasury Department. The production of all other denominations was suspended through the end of the year. As a result of these circumstances, the Denver Mint's production of 264,000 dimes became the final mintage.
Many of the 1916-D Mercury Dimes were saved, providing a steady supply of the key date coin for collectors. The popularity of the series and perception of rarity have kept demand for the coin very strong over the years. According to PCGS and NGC population reports, the finest known examples are graded MS67FB. Although the reports show eight coins graded as such, this number is likely inflated by resubmissions.
One of the pieces graded MS67FB with gorgeous toning and CAC verification recently realized a price of $195,500 at an auction held in August 2010. At the other end of the spectrum, prices for well circulated pieces graded G-4 are around the $1,000 level.