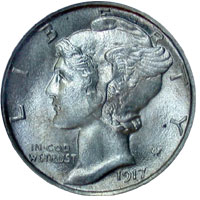 Mercury Dimes were minted from 1916 to 1945. However, there were no dimes issued in 1922, 1932, and 1933. The lowest mintage of the series was the 1916-D Mercury Dime, which has become a classic key date coin of the twentieth century. The highest mintages occurred later in the series when several issues had production of more than 100 million.
During the series, coins were produced at the Philadelphia, Denver, and San Francisco Mints. Coins minted at Philadelphia do not have a mint mark, while Denver issues carry the "D" and San Francisco issues carry the "S." The mint mark location is on the reverse of the coin to the left of the fasces. For most years of the series, coins were produced at all three facilities.
The table below shows the mintages for circulation strikes of the Mercury Dime series for each date and mint mark combination. Click here to view Proof coin mintages for the Mercury Dime.
Mercury Dime Mintages
| Issue | Mintage |
| --- | --- |
| 1916 | 22,180,080 |
| 1916-D | 264,000 |
| 1916-S | 10,450,000 |
| 1917 | 55,230,000 |
| 1917-D | 9,402,000 |
| 1917-S | 27,330,000 |
| 1918 | 26,680,000 |
| 1918-D | 22,674,800 |
| 1918-S | 19,300,000 |
| 1919 | 35,740,000 |
| 1919-D | 9,939,000 |
| 1919-S | 8,850,000 |
| 1920 | 59,030,000 |
| 1920-D | 19,171,000 |
| 1920-S | 13,820,000 |
| 1921 | 1,230,000 |
| 1921-D | 1,080,000 |
| 1923 | 50,130,000 |
| 1923-S | 6,440,000 |
| 1924 | 24,010,000 |
Mercury Dime Mintages Continued
| Issue | Mintage |
| --- | --- |
| 1924-D | 6,810,000 |
| 1924-S | 7,120,000 |
| 1925 | 25,610,000 |
| 1925-D | 5,117,000 |
| 1925-S | 5,850,000 |
| 1926 | 32,160,000 |
| 1926-D | 6,828,000 |
| 1926-S | 1,520,000 |
| 1927 | 28,080,000 |
| 1927-D | 4,812,000 |
| 1927-S | 4,770,000 |
| 1928 | 19,480,000 |
| 1928-D | 4,161,000 |
| 1928-S | 7,400,000 |
| 1929 | 25,970,000 |
| 1929-D | 5,034,000 |
| 1929-S | 4,730,000 |
| 1930 | 6,770,000 |
| 1930-S | 1,843,000 |
Mercury Dime Mintages Continued
| Issue | Mintage |
| --- | --- |
| 1931 | 3,150,000 |
| 1931-D | 1,260,000 |
| 1931-S | 1,800,000 |
| 1934 | 24,080,000 |
| 1934-D | 6,772,000 |
| 1935 | 58,830,000 |
| 1935-D | 10,477,000 |
| 1935-S | 15,840,000 |
| 1936 | 87,500,000 |
| 1936-D | 16,132,000 |
| 1936-S | 9,210,000 |
| 1937 | 56,860,000 |
| 1937-D | 14,146,000 |
| 1937-S | 9,740,000 |
| 1938 | 22,190,000 |
| 1938-D | 5,537,000 |
| 1938-S | 8,090,000 |
| 1939 | 67,740,000 |
| 1939-D | 24,394,000 |
Mercury Dime Mintages Continued
| Issue | Mintage |
| --- | --- |
| 1939-S | 10,540,000 |
| 1940 | 65,350,000 |
| 1940-D | 21,198,000 |
| 1940-S | 21,560,000 |
| 1941 | 175,090,000 |
| 1941-D | 45,634,000 |
| 1941-S | 43,090,000 |
| 1942 | 205,410,000 |
| 1942-D | 60,740,000 |
| 1942-S | 49,300,000 |
| 1943 | 191,710,000 |
| 1943-D | 71,949,000 |
| 1943-S | 60,400,000 |
| 1944 | 231,410,000 |
| 1944-D | 62,224,000 |
| 1944-S | 49,490,000 |
| 1945 | 159,130,000 |
| 1945-D | 40,245,000 |
| 1945-S | 41,290,000 |