The 1921-D Mercury Dime (Buy on eBay) represented the only branch-mint dime issued for the year, as the San Francisco Mint did not produce the denomination. Together with the issue from the same year struck at Philadelphia, this coin is considered to be one of the semi-key date coins of the series.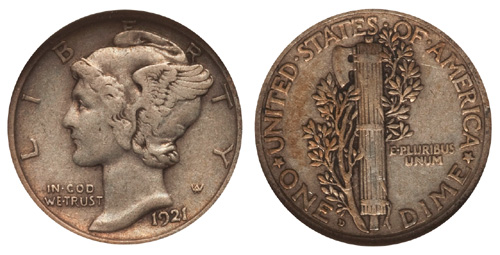 The Denver Mint struck only 1,080,000 pieces this year, which ranks as the second lowest mintage for the overall series. This year, the facilities at Philadelphia, Denver, and San Francisco were devoting their resources to striking millions of silver dollars required under the Pittman Act. This led to lower production for other denominations.
Compared to the 1921 dimes from Philadelphia, the 1921-D Mercury Dime is more challenging to locate in higher mint state grades. Around 20 examples have been graded MS66FB by either PCGS or NGC, but only two examples have graded MS67FB by NGC. One of these sold for $24,150 at an auction held in April 2011.
Circulated examples in grades G-VG may be acquired for around $100. Since coins of this grade will likely be encountered raw, take care to ensure that the pieces have not been cleaned or damaged.
1921-D Mercury Dime Coin Specifications
Designer: Adolph A. Weinman
Composition: 90% silver, 10% copper
Diameter: 17.9 mm
Weight: 2.5 grams
Edge: reeded
< 1921 Mercury Dime | 1942/1 Mercury Dime >