As the lowest mintage coin from a heavily collected series, the 1916-D Mercury Dime (Buy on eBay) is one of the most famous key date coins of the 20th-century. An entire generation of collectors experienced the thrill of the hunt when attempting to find the rare issue in circulation.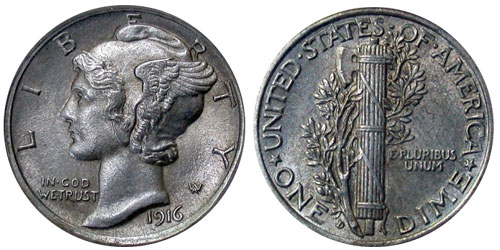 The issue had a mintage of just 264,000 pieces, with the entire amount struck in November of 1916. At the end of the month, it was decided that the Denver Mint should focus production on quarters to fulfill a large order from the Treasury Department. The production of all other denominations was suspended through the end of the year. As a result of these circumstances, the Denver Mint's scant production of 264,000 dimes became the final mintage.
The coins were distributed in Montana and the Upper Midwest where they experienced extensive circulation. It was not until a few decades later when collecting the series by mintmark gained popularity that the coins were pulled from circulation.
The 1916-D Mercury Dime remains in high demand across all grade levels. Most surviving examples are in well-circulated condition, although there are some remarkably preserved coins in grades as high as MS67FB. One of the pieces graded MS67FB with gorgeous toning and CAC verification recently realized a price of $195,500 at an auction held in August 2010. At the other end of the spectrum, prices for well circulated pieces graded G-4 are around the $1,000 level.
1916-D Mercury Dime Coin Specifications
Designer: Adolph A. Weinman
Composition: 90% silver, 10% copper
Diameter: 17.9 mm
Weight: 2.5 grams
Edge: reeded