The 1942/1 Mercury Dime (Buy on eBay) is a rare overdate coin which shows the numeral "2" over "1" for the final digit of the date. The variety was created when two obverse dies were impressed with a 1941-dated hub and then a 1942-dated hub. By far, this is the most widely known and popular variety of the series.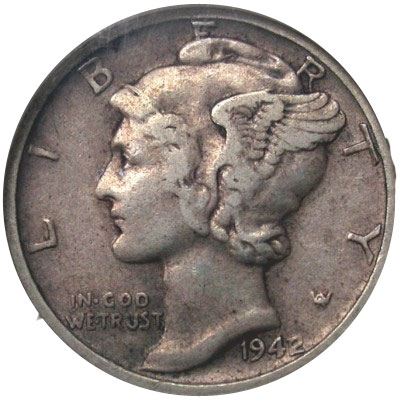 The overdate occurred at both the Philadelphia and Denver mint facilities. The Philadelphia version is bolder and more obvious, leading to its detection in circulation shortly after release. In March 1943, the discovery was publicized within a Numismatic Scrapbook article, which led many examples to be identified and saved. The Denver version of the overdate is less obvious and was not detected until later.
Both overdates carry premiums across all grade levels. While they are somewhat available in circulated grades, each represents a major rarity in higher mint state grades.
1942/1 Mercury Dime Coin Specifications
Designer: Adolph A. Weinman
Composition: 90% silver, 10% copper
Diameter: 17.9 mm
Weight: 2.5 grams
Edge: reeded
< 1921-D Mercury Dime | 1945 Mercury Dime with Full Bands >