The 1945 Mercury Dime (Buy on eBay) is one of the most common coins of the series with a mintage of 159,130,000. However, the issue does represent a significant strike rarity as very few coins were struck and survived with "Full Bands."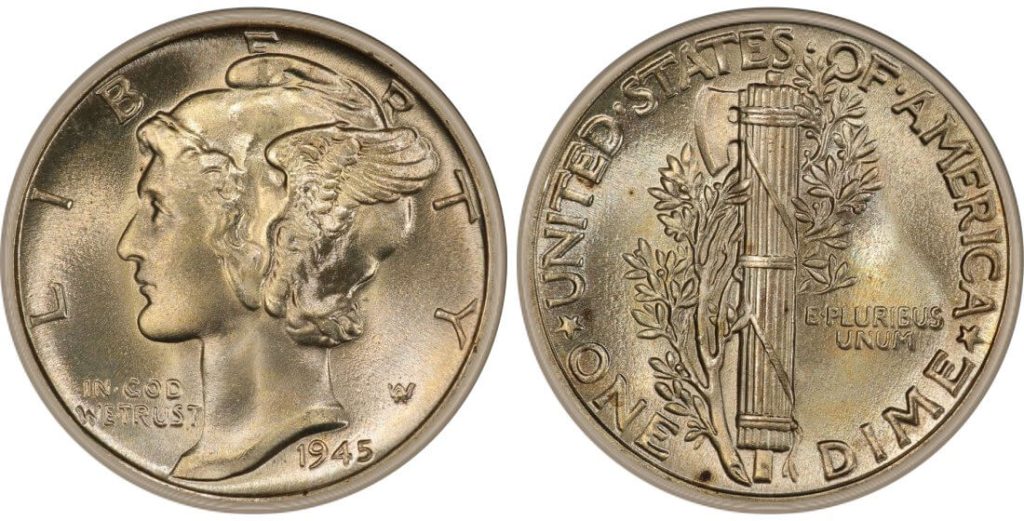 For the series, the grading designation "Full Bands" is used to designate sharply struck coins which display full separation between the central crossband surrounding the fasces on the reverse of the coin.
Substantially all 1945 Mercury Dimes will be encountered weakly struck at the centers. Because of the weak strikes typical for this issue, coins with full split bands are in the distinct minority. Based on data included in the PCGS and NGC population reports, less than 2% of all examples graded have received the "Full Bands" designation.
The highest graded are four pieces which have been graded MS67FB by PCGS or NGC. The last example to appear at auction in July 2009 was graded by NGC and realized $25,300. One of the PCGS graded examples had sold for $43,125 in April 2001.
1945 Mercury Dime Coin Specifications
Designer: Adolph A. Weinman
Composition: 90% silver, 10% copper
Diameter: 17.9 mm
Weight: 2.5 grams
Edge: reeded